Looking for a Leader in ERP Solutions? Try Us.
A well-developed Enterprise Resource Planning software can help your company operate more efficiently and profitably.

Any ERP system can be termed as a Business Management Software, that is a suite consisting of integrated applications. These applications do collection, storage, management and interpretation of the data from various businesses that include HR Management, Finance Management, Product Planning, Service Delivery, Manufacturing, Inventory Management, Sales and Marketing and other(s).
At N2NAcers we develop and customize Enterprise Resource Planning (ERP) systems that assist businesses to manage their large streams of data. Our developers are forever charged up to challenge themselves putting their development skills into practice when working on your ideas to build your new custom ERP solution or if you want to integrate third-party software to meet your company's specific requirements. Our ERP Solution Development team does not cover only software engineers but also includes QA professionals, business analysts, project managers, and IT consultants.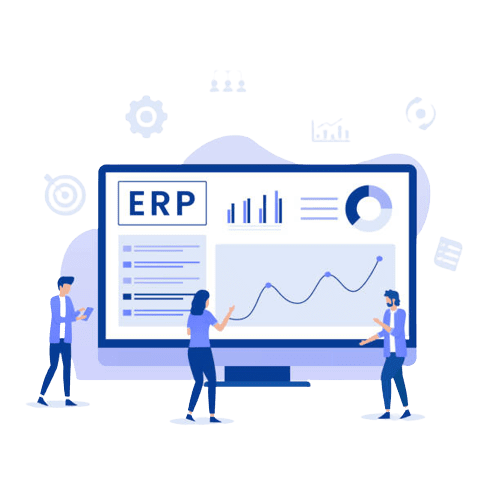 Our ERP Software Offerings
Accounts Management System (AMS)
An Accounting Management Software or an Accounting Management System aids a business to keep a track of all the inflow and outflow of your income, expenditure, and other financial transactions to and fro. It also assists business management to fetch data that you require towards taking your business-related decisions.
An Ideal Accounts Management Software possesses the following key features:
General Ledger

User-Friendly

Analysis and Reporting

Scalability and Automatic Updates

Billing, Invoicing and Processing Payment

Mobile Friendly

Data Security

Easy Ledger Payments

Identify and Eliminate Errors
Inventory Management System (IMS)
An IMS known as an Inventory Management System is an amazing tool that helps keep track of the Inventory Levels throughout the supply chain from Sales, Orders to the Deliveries. It a vital system useful for Management of Inventory especially in Manufacturing Units where details related to the production of goods/products needs to be documented and material billing is done.
Following are the essential features of an efficient Inventory Management System:
Centralization of inventory management

Organised Tagging and Barcoding

Reporting of business activities

Forecasting of inventory

Alerts for inventory details

Inventory Backup and security

Cloud data software and Internet of Things (IoT)

Interoperability of the inventory management software application with other systems

Optimised inventory management

Well organised Product Demand and supply
Customer Relationship Management and Sales (CRMS)
A sales CRM is an unavoidable tool when it comes to managing the touchpoints with your prospects or with customers during the sales process. The word touchpoint refers to any interaction between the sales representative and the lead, that may be direct or indirect. A CRMS aims at allowing businesses to manage their customer relationships more efficiently and ultimately driving more success. A sales CRM software can help you automatically track and manage your inbound leads and provides a platform to better understand the impact of marketing and sales.
Most important features of a Sales CRM are stated below:
Automation of the Workflow

Ability to Customise

Integration with Third-party

Customer Service and Support

Tracking for Employees

Social Media Monitoring

Lead Identification and Management

Pulling of Real-time data

Customer Analytics

Reporting

Future Sales Prediction

Email and Emailing
Human Resource Management System (HRMS)
Human Resources Management System (HRMS) can be termed as an Information System (IS) designed with an intent to managing an organization with automated and computerized Human Resource (HR) processes. HRMS is responsible for the training, recruitment, assessment and recognition of employees while administering surveillance in the organization and its work culture. HRMs also makes sure to abide by labour laws. Most HRMS include payroll features like, bulk processing and reprocessing, flexible payroll periods, online pay slips, pay adjustments, global payroll compliance and keeps record of overtimes.
Here are the basic key features of an HRMS:
Substantial Existence

A Component of Management Domain

An Action-Oriented Sector

Development-Oriented

Presided Towards the Fulfilment of Goals

People-Centred

HR Philosophy

Functions Continuously

Extensive Scope of Action
Analytics and Reporting System (ARS)
In any CRM system, the analytics and reporting (ARS) go hand in hand. Reports state why it is happening, whereas analytics can identify the actual reason behind its happening. By reporting, data can be organized and summarized in a systematic order that is well understood by all. On the other hand, Analytics further helps question and explore the data.
Main key features of Analytics and Reporting System are a follow:
Interactive Dashboard in Real Time

Reporting on Multiple levels

Ability to Create Powerful, Custom Reports

Trending Historically

End-to-end Business Visibility right from the Summary until the final Details

Identification and Analysis of Business Issues Efficiently and Quickly
Our ERP Solution offerings for all types of Industries!
Our ERP business software operates over multiple industries and departments. These include Human Resource Management (HRMS), Inventory Management System (IMS), Employee Management System (EMS), Supply Chains, Customer Relationship and Financial Management (CRM), Opportunity Tracker (OT), Manufacturing, Logistical, Reporting Management System (RMS), Educational Learning Management System (LMS), and many more sections of the society.
ERP Development
With over several years of experience in diverse industries, we've gathered proven expertise in delivering ERP development services. We understand how to match technology to your company goals. This permits us to create and deploy strong and complex ERP systems.
ERP Integration
We connect ERP systems or their custom elements with current software to ensure impeccable communication between solutions working towards your company's success. ERP integration makes data sharing between systems easier and gives you more control over the process.
ERP Customization
If you sense like your company requires customized ERP software with some extra perks, N2NAcers will willingly add all the features for you. We provide configuration choices that include in your business regulations and practices and result in the most appropriate ERP feature set being delivered. You obtain a competitive advantage over firms that employ conventional ERP functionality by personalizing your ERP software.
Frequently Asked Questions
Is having an ERP Software beneficial for every industry?
Yes, ERP software can provide significant benefits to any industry or company. Regardless of the industry in which your company operates, an ERP may help you automate, streamline, and expedite business processes. You can opt for industry-specific ERP solutions, which are tailored to your industry's demands and exceptions. In reality, if your company wants to get a competitive advantage in the market, having an efficient ERP software becomes a must.
Are CRM and ERP Identical twins?
CRM and ERP both can be named as tools responsible for streamlining the corporate processes. A CRM is focused on sales only, whereas an ERP is useful in automating, streamlining and speeding up the procedures across numerous other departments. An ERP solution allows management to keep track of all the departments and processes in an organisation.
How much does it cost to develop an ERP solution?
The cost of any ERP Software development is determined by taking into consideration various factors such as development time, features to be included, the activities to handle and others. All these factors play a vital role in determining the total expenditure of developing an ERP software solution. N2NAcers is a rare company that provides cost-effective ERP solutions keeping the quality and service intact.